Children
WE LOVE KIDS! And we love helping parents and care providers build and nurture a foundation of faith in children's lives! If there's one message we want kids to know, it's that God loves them and always will.
We ask that parents/guardians complete a new Child/Youth Participation/Permission Form and Medical Release at the start of every school year. All provided information will be kept confidential and used to ensure the safe participation of the children.
Sunday School
Age 4 though Grade 5
Sunday school is a blast! We have a great time on Sunday mornings during each of our worship services downstairs in the children's wing. We work to create an environment where each child feels welcome, loved by God, encouraged by their teachers and accepted by one another. Our curriculum is designed and adapted to reach 4-year-olds through 5th graders. We teach important Bible stories through music and interactive lessons that engage children's minds, hearts and hands.
Sunday School is led by our Director of Children's, Youth and Family Ministries in collaboration with adult volunteers and youth assistants. All staff and adult volunteers who work with children have passed background checks.
Children of all ages are always welcome in worship. Nursery care and Sunday school are also offered during both services. We begin the morning together as one worshipping community. After the Children's Time (when kids are invited to come forward for a special message--usually from our Director of Children's, Youth and Family Ministries), four-year-olds through fifth graders are invited to head downstairs for Sunday school. Children are picked up upon the conclusion of worship and all are invited to join us for refreshments upstairs.
Should you choose to have your children remain in worship with you, there are worship bags available for your child's use in the lobby area (look for one of the two decal "trees" on the wall shared with the Sanctuary—you'll find the bags hanging from their branches). The bags contain books, activities, crayons, etc. related to the biblical passages and theme for the day.
Wednesday Nights
Grade 1 through Grade 4
We offer a community meal at 6:00pm on Wednesday night before the scheduled programming begins.
From 6:30-7:30pm, kids in first through fourth grades participate in our Wednesday night Children's Programming. Our curriculum, "Building Faith Brick by Brick," is designed to help children engage Scripture and use their imaginations as they create Bible stories with LEGO® bricks. Together, we learn in fun ways that yield a solid foundation for a lifetime of faith.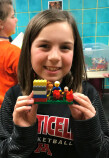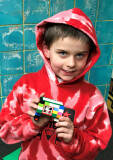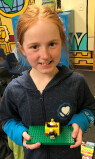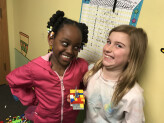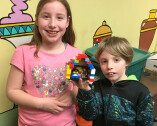 Vacation Bible School (VBS)
Every summer we offer a FREE Vacation Bible School experience for children ages four through sixth grade (though upper elementary students and youth are welcome to serve in a leadership capacity if they prefer). We sing; dance; learn stories from Scripture; have snacks; make crafts; play games; grow in our faith; make new friends and have fun, fun, fun!
United Methodist Church Camps
Learning and growing spiritually with other Christians in an immersion experience can be pivotal for the development of a person's faith. In fact, Pastor Carrie has said before, "Church camp is where my faith came alive." If you want this for yourself and/or for your child(ren), we hope you'll consider registering for a United Methodist Church camp this summer.
Nursery Care
Infants though Age 3
Nursery care at Community United Methodist Church is designed to provide a safe, enjoyable and loving environment in which infants, children (through age three) and adults can interact. Once a child turns four, they are invited to further their faith formation by participating in Sunday School. Because we know the value of consistency and routine in a little one's life, the nursery is professionally staffed between 8:45am-10:15am and then again from 10:45am-12:15pm on Sundays. This same care is provided on Wednesday evenings from 6:25 until 8:10pm during the academic year. A professional will staff the nursery at other times as needed.
We utilize a pager system to keep in close touch with our families and give each household a Welcome to the Nursery Letter outlining our policies and procedures. Families new to the nursery are asked to complete a nursery registration form that is then kept on file for future use.
Our nursery is staffed by Breanna Sandry and Lea Nygaard.
Breanna Sandry - Wednesday evenings and most Sunday mornings
Breanna is a stay-at-home-mom who has spent the last several years working in child care and health care fields. Breanna and her husband, Brandon, are newlyweds who together have two children, Madison and Desmond, and another one on the way! Breanna moved to the area from St. Cloud and is blessed to have found a place in the Community family. Outside of church, her family enjoys swimming, gymnastics, wrestling and playing games at home.
Lea Nygaard - The third Sunday of every month
Lea grew up in Monticello, MN. She currently attends North Central University and will graduate in May, 2020 with a degree in Pastoral Studies. Lea served as CUMC's pastoral intern during the summer of 2019 and has been involved in the larger community for many years, volunteering at Little Mountain Elementary, participating in and coaching gymnastics and nannying. She loves the Lord and is excited for the opportunity to continue her ministry with CUMC as she cares for the youngest among us.

Interested in participating in a mixed ages (birth to five) Music Together class with your child? We are delighted that our Director of Children's, Youth and Family Ministries, Jess Monett, leads Music Together Great River classes in our building! For more information about this excellent music and movement learning opportunity, check out their website: