Children
WE LOVE KIDS! And we love helping parents and care providers build and nurture a foundation of faith in children's lives! If there's one message we want kids to know, it's that God loves them and always will.
Sunday School
Story and Stretch
Enjoy videos for families with children ages 3 and up (in lieu of live Sunday School). Each video will contain a song and a Story and Stretch session which combines the ancient art of oral Biblical storytelling and the healing practice of yoga. Experience your body as a sacred place to dialogue with God.
Story: All God's Creatures
Main Point: God trusts us to love & care for creatures of the land, water and sky.
Psalm 50:10-11 - "For every beast of the forest is mine, the cattle on a thousand hills.
I know all the birds of the hills, and all that moves in the field is mine."
Matthew 10:29 - "Are not two sparrows sold for a penny?
And not one of them will fall to the ground apart from your Father."
I Wonder Statement: I wonder what creatures God has entrusted you with to love and care for...
Discussion Questions:
Why is it important to care for God's creations?
What creatures has God entrusted you with and how do you care and love them?
What can humans learn from animals?
Prayer: Dear God, thank you for all of your creatures of the land, water and sky. Help me to care and love all of your creation. Amen.
Music: A Place in the Choir - Damian McGinty & Celtic Thunder
Vacation Bible School (VBS)
VBS 2021 Bolt! Totally 80's -
A Totally FREE Event!
August 2-5 @ 10 AM (or as convenient!)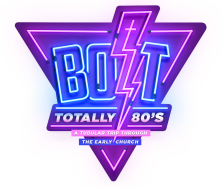 We are taking a tubular trip through the early church—and we want your family to join us! With minimal preparation, easy-to-follow instructions, and a video that leads you and your kids step-by-step through each of the four days, BOLT is designed for you to do with your family at home. It's so simple and Community UMC will provide all the materials necessary to implement the program!
Depending on your pace, you can expect that each day's experience will last about an hour and a half. Included screen time is only about 30 minutes. It's great for kids 5 and up. Even middle and high school kids can enjoy it!
Wednesday Nights
Grades 1-6 participate in Wednesday evening programming September through May. Our most recent series was "Grow Like Jesus" where we explored developing spiritual, physical and intellectual aspects of our lives and becoming more like Jesus! In addition we asked students to choose three habits to personally develop this past spring and hold each other accountable by checking progress in class. Families are encouraged to continue to use the Grow Like Jesus curriculum throughout the summer. If you need materials, contact:
Throughout the pandemic we found creative ways for everyone to participate. Zoom programming included meeting as a group at the beginning of the session, breaking out into small groups and then reconnecting at the end for prayer. A second option was offering Family Faith Formation pages for those who chose to forego Zoom and experience programming as a family, with grandma and grandpa, neighbors or friends, little ones, etc. The experience required minimal materials with an opening question, short reflection, coloring page with discussion questions and a closing prayer.
Child/Youth Participation/Permission Form and Medical Release
We ask that parents/guardians complete a new Child/Youth Participation/Permission Form and Medical Release at the start of every school year. All provided information will be kept confidential and used to ensure the safe participation of the children.
United Methodist Church Camps
Nursery Care
Infants though Age 3
Nursery care at Community United Methodist Church is designed to provide a safe, enjoyable and loving environment in which infants, children (through age three) and adults can interact. Once a child turns four, they are invited to further their faith formation by participating in Sunday School. Because we know the value of consistency and routine in a little one's life, the nursery is professionally staffed between 8:45-10:15 AM and then again from 10:45 AM-12:15 PM on Sundays. This same care is provided on Wednesday evenings from 6:25-8:10 PM during the academic year. A professional will staff the nursery at other times as needed.
We utilize a pager system to keep in close touch with our families and give each household a Welcome to the Nursery Letter outlining our policies and procedures. Families new to the nursery are asked to complete a Nursery Registration Form that is then kept on file for future use.