Adults
Whether you're taking your first step or your next step in faith, we are eager to help you connect with other adults who strive to do the same. Because we care about your spiritual, mental, emotional, financial, relational and physical health, we offer a variety of opportunities to grow in these areas.
___________________________________________________________
Life Groups
At Community, we are intentional in our efforts to develop small groups that do life together—some for a season and others long-term. These aptly named Life Groups offer opportunities for adults to build meaningful relationships with one another while asking difficult questions of faith; praying together; growing in Christ and forming caring, Christian Community.
NOW FORMING: Earn.Save.Give.: Wesley's Simple Rules for Money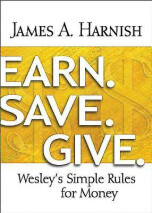 John Wesley, the Christian evangelist and founder of the Methodist movement, gave a remarkable sermon titled, "The Use of Money." In it, he said that the important thing isn't money itself, but how we use it. Wesley's advice, surprising for some, still rings true today: "Earn all you can, save all you can, give all you can."
On September 8, Kickoff Sunday, we will be starting a new all-church study and financial stewardship program. Join us for this four-week study during which people of all ages are invited to participate in new and existing life groups to pray together and discuss one chapter per week of the book. Sign up for whichever life group works best with your schedule.
Sunday Morning
10:10 - 11 AM - Facilitator: Sue Lasure
Wednesdays
9 - 10 AM - Facilitator: Hazel Rannells
5 - 6 PM - Facilitator: Brad Johnson
7 - 8 PM - Facilitator: Mary Jo Jepson & Terry Melsha
Every fall, members and friends of Community sign up to participate in Life Groups that study the content selected for an all-church study. Groups meet weekly for prayer and discussion. Topics and themes raised in the study are echoed in the preaching and worship each week.
Past all-church studies have included:
Alpha - a video-based curriculum
Unbinding Your Heart, by Martha Grace Reese
The Story - a chronological, abridged version of the Bible
Historically, new small groups have formed again in the winter around a potpourri of subject matter. Some of these groups have studied:
Nooma - a series of short films featuring theologian and speaker, Rob Bell
The Daniel Plan: 40 Days to a Healthier Life, by Rick Warren, Daniel Amen and Mark Hyman
The God We Can Know: Exploring the "I Am" Sayings of Jesus, by Bob Fuquay
The Mayberry Bible Study, by Stephen Skelton
God Unbound: Wisdom from Galatians for the Anxious Church, by Elaine Heath
Alpha: The Marriage Course - a video-based curriculum
The Parenting Children Course, an Alpha resource
Financial Peace University - offered in partnership with Resurrection Lutheran Church
Still other Life Groups meet year-round and study the Bible and other books.
---
WOMEN'S MINISTRIES
Women have always played an important part in the ministries of Christ. At Community, it's no different. Women gather together for spiritual growth, social interaction and in service to others.
Last Lent, our pastor offered a study for women about the impact of violence on Christian theology.
We have active United Methodist Women's groups at Community. These UMW groups (called "circles") are connected to the larger, global United Methodist Women organization of 800,000+ members committed to fostering spiritual growth, developing leaders and advocating for justice. The purpose of the United Methodist Women is threefold:
To know God and to experience freedom as whole persons through Jesus Christ
To develop a creative supportive fellowship
To expand concepts of missions through participation in the global ministries of the church

UMW circles at Community include:
Esther Circle
Meets at the church at 9:30am on the third Thursday of every month
Martha and Naomi Circles
Meet at the church at 1pm on the third Thursday of every month
Circle of Friends
Gathering dates, times and locations vary
---
MEN'S MINISTRIES
Just as Jesus regularly spent time in community with a small group of men, we also value the importance of Christ-centered opportunities for men to connect. Our growing men's ministry includes a monthly Saturday morning Men's Breakfast at the church (word on the street is that Brad Johnson makes a mean plate of eggs…), regularly-offered life groups for men and the annual outing to Arise with the Guys—a men's only event where professional and collegiate Christian athletes share messages of faith, godly values and legacy-building.
I'm interested in Men's Ministries